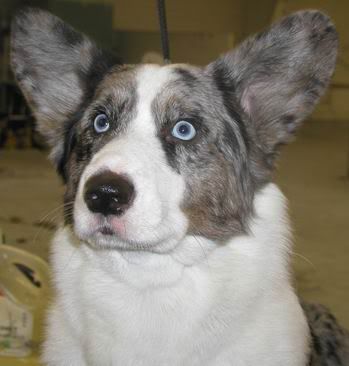 Ok, here's my assignment to Kim Gibson, of Cardi Corgi Capers: I was to go to my photo archives, open the 6th folder and select the 6th picture, post the picture here along with the story behind it. So here goes...
This is a picture of Ch Cardidreams Blue Sullivan, or "Sulley" as he's known around this area, or "Goober" by friends and family. He's kind of our adopted son, Ruby's soul mate and only love, and the father of our first grandpuppies. :) This picture was taken in Mason City a couple of years ago while Emily was grooming him for the group (I believe he received a Group 1 that day!). I was helping my nephew, Thomas, do a project for his 3rd grade class. He had me take a "Flat Thomas" with me everywhere I went, and take pictures of the places that "Flat Thomas" visited, and any interesting people or things that he saw. I took him to 2 dogshows during those 2 weeks, and took all kinds of pictures of dogs, people and events. His teacher loved it and he received an A+ on his project.
Sulley is SUCH a pretty boy and one of the reasons we fell in love with this breed.
We're tagging Garrett at Ramsey Farms and anyone else that hasn't been tagged as of yet and wants to play. :)